SNORKELDATA AUDIO WELLNESS CENTER
NIKLAS STRÖM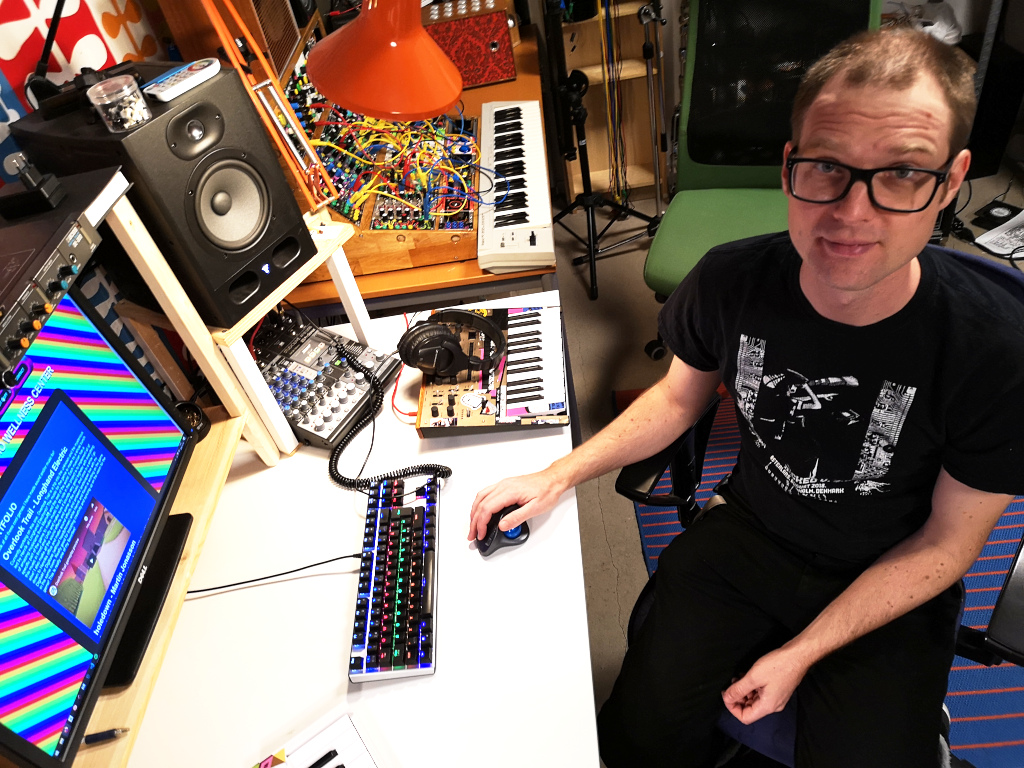 This is me!
I´m a freelancing synth nerd that make audio for games. I started out making chip music in 1997 or something and since then music, music gear and creative people has been a constant evolving factor in my life. I´m a very DIY person and I enjoy making my own tools for sound-making. Such as my Modular Synth that I´m constantly working on or just the shelves in my studio for hanging my audio cables. I´v also studied three years of Digital Sound Design at Blekinge Institute of Technology. Thats where I met the people I started out making games with.
PORTFOLIO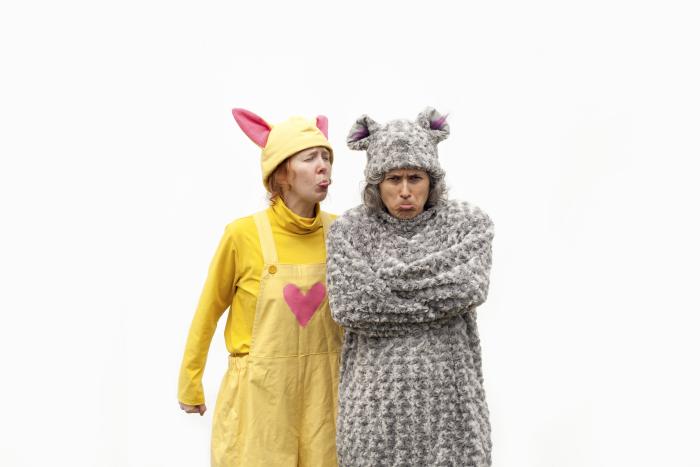 Vem är arg? is a dance show for 2-3 years-olds. Its based on Stina Wirséns book with the same name. And its about the big feelings small kids tackle on a day to day basis. Emelie and Elin contacted me in 2019 and asked me how many tracks of music I could make in one weekend. They needed 15 tracks for this thing they were pitching. I managed to make 3 tracks! And then that was that. Then somewhere in late 2020 the project got funding and I could go ahead and make the rest of the music. So in spring 2021 I spent my days in the studio chipping away at the soundtrack. Sent songs to E&E which they said were super good! But I was basically alone making this for four months so I had no idea. (pandemic etc...) So when I finally got to see them dance to my music my head kinda exploded. It was so wonderful to see all the tiny movements they had synced up with every little detail in the music. Everything came toghether very nicely and people seem to like it as much as we do! Very fun project!
Overlook Trail - Longhand Electric
Currently working on this one. Overlook Trail is a trip into the unknown and the mysterious led by Henrik at Longhand Electronic! The music for the game is made by a whole bunch of amazing musicians from Malmö and the rest of the world. Each musician has a specific part of the game to make music for. My role in this project is to implement all of this music in fmod and Unity and make sure it sounds very good together with everything else! I also make all the sound effects and some of the music. And once in a while I go down to Henriks office and make sound effects and ambient landscapes live with my Digitakt or Digitone (without headphones) while Henrik and Kevin is working on the game in the same room. Really good for boosting creativity and syncing up on the vision for the game!
holedown - Martin Jonasson
A game about shooting bouncing balls into planets. A classic! Martin and I love the bleepy bloops from my modular synth and we love acid music. The combo worked out great for this game! At the time of making this game our apartment (with my home studio) was being renovated so I could not work there for any longer period due to stinking paint. The solution was sitting in a sofa at Martins office with a Digitakt groovebox and a x0xb0x to make the space acid. Martin would come in and check on me atleast one time before lunch and one after lunch to inspect the quality of the music. Good times! For the sound effects I had to brace myself and go home to the modular and extract sounds from it an hour at the time and then head out again! All the sounds and music were made by me and implemented in fmod by Martin.
The Swords of Ditto - Devolver onebitbeyond
They asked me if I could make some childish but adventurous and driving music with old toy keyboards, and that is exacly what I did! 45 of them! (and some jingles!) I relied heavily on my Casio CZ-1000 and a Casio SA-10 to be the core of the music and padded it out with my modular synth, shakers, eggs and a healthy slice of Kazoo!! After making some Kazoo-heavy songs the developers decided it was a good idea to make a Kazoo-Bus with its own tune for fast travel/teleport in the game! They also made Swords of Ditto-branded kazoos and handed out at game shows.
The Stretchers - NINTENDO - Tarsier
I spent 3 years with the friendly people at Tarsier Studios here is Malmö making and implementing all the sounds and music for this wacky gem! The music is some sort of feel-good swingy chilled down electronic ska-funk. Made with everything from electric guitar, analog synths, harmonica, drum machines, ukulele, shakers and I think I got a kazoo in there as well. All of this put togheter in Fast Tracker 2 and then mixed in Cubase. And for the sfx I have my suspicions that this might be the champagne-cork-plop-sound densest game in the whole world! The game was make with Unreal Engine and Wwise.
twofold - Martin Jonasson
This was the first game that my modular synth really got to show what it was made of! All the liquid blips and bloings in this game could not have been made without it! It was a pure joy to hear them ingame when moving bricks around. For the music... Well! This was a hard nut to crack. We had done the home-organ-thing for rymdkapsel and we wanted something new. After some tries we landed on this sort of surf/kraut-pop with guitar and "real" drums. I rememeber having fun making it!
rymdkapsel - Martin Jonasson
This was the first serious game Martin and I did together. We had made some stuff at school but this was the real thing! Martin came and asked me something like: "Hey, can you make spaced out home-organ music and some nice synthy sound effects?" and I was like: "yep! that´s what I´ve been doing the last couple of years with my band The Electones!" It was the perfect match! The game, the music, the sounds! Still one of my favorites! If you havnt played it you should!
Knife Sisters - Transcenders Media
A visual novel about peer pressure, manipulation, love, obsession and bdsm, developed by Transcenders Media. A great project! For this one I was responsible for making the sounds and implementing stuff in fmod. A lot of fun/unusual and very specific sounds was made, including the sound of tape-squeaking from being taped to a chair and then ripping free. Unfortunately none of my sounds are present in the video here but it gives a good sense of the feel from the game! The music was made by the amazing Douglas Holmquist. The process of working with Transcenders Media and Douglas was smooth and nice, we shared a common vision and many fine lunches!
Gauntlet - Arrowhead Games - Warner
This was my first dipping of toes in the AAA-World. My friend Christian Björklund was making the sound design for this one and he needed some help making assets. So he asked me if I wanted to join in and make some sounds. Most vivid memory is when I decided to do some voice-acting myself for the zombie-being-hurt sounds and almost threw up trying a bit too hard to make the perfect sounds. It was a cool project and it felt exiting to work on a AAA-game for the first time.
Flat Heroes - Parallel Circles
A very cool game about bouncing squares battling other dangerous geometrical shapes. Great for local multiplayer! I focused mainly on the sounds and I brought in Christian Björklund as a composer for the music.
Hyper Princess Pitch - Daniel Remar
Daniel contacted me and asked if I could make some metal/chip-tune for his christmas game. (He made the sound effects himself) At the time I was deep into mod-files, chip-music and Fast Tracker 2. So this was a dream project for me! I´m very glad I did this and I still get happy when I listen to the music today. Best part of the process was when Daniel told me that one of the songs had made him "put more ice-crystals on one of the levels". This game is an absolute classic!
STUDIO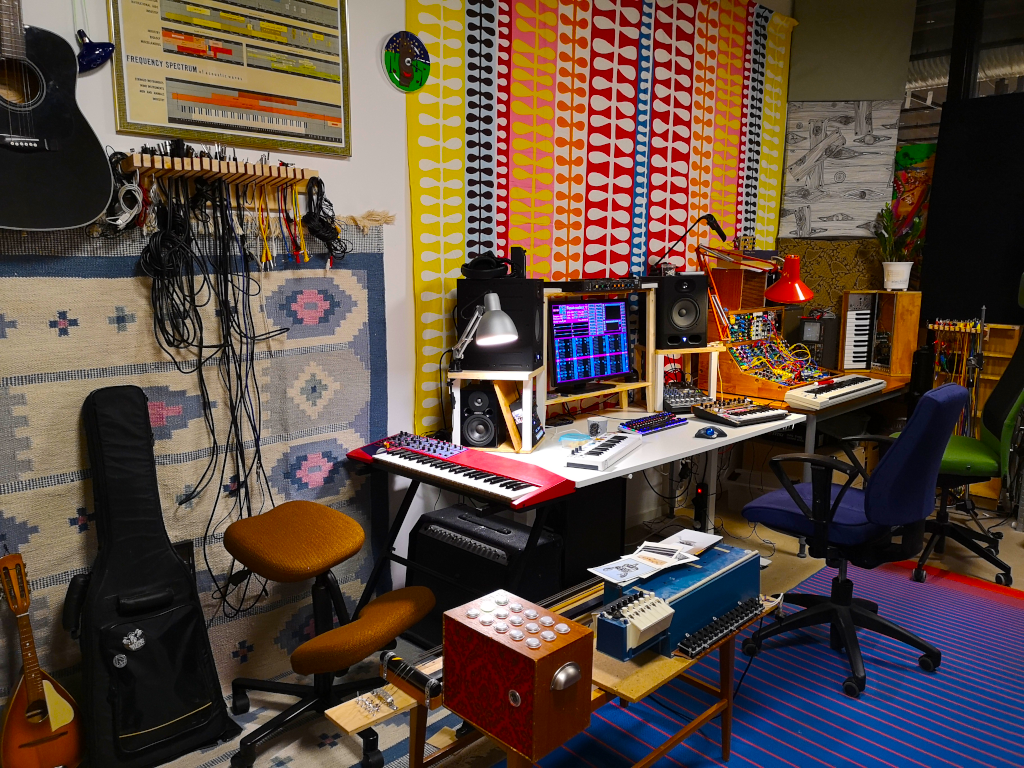 I have a Studio here in Malmö - Sweden. It can be seen on the picture above. Here is a list of some of the things I have hoarded over the years.
Software
Cubase (with a bunch of vst-plugins)
Fasttracker 2
VCV Rack
Hardware
Synths: DIY Modular Heap of Spagetti Synth, Nordlead 1, Korg Monologue, Elektron Digitakt, Elektron Digitone, Elektron Sidstation, Casio CZ-1000, Yamaha Electone Organ, x0xb0x, RE-303, Shruti, Casio SK1
Microphones: Line Audio Design CM3, Shure SM57, Zoom H2
String Instruments: Three Acuostic Guitars (none of them have all strings left), One Electric Guitar (all strings on this one), DIY Fretless Bass, Ordinary Bass, Weird Piano String-to-a-plank-with-guitar-pickup
Wind Instruments: Harmonicas - A bunch, Kazoo, Slide Whistle, Keyboardless Wind Organ, Silly little accordion
Other: A box full of shakers, whistles and stuff that just sounds fun, nicely tuned kalimbas, gameboy!
SERVICES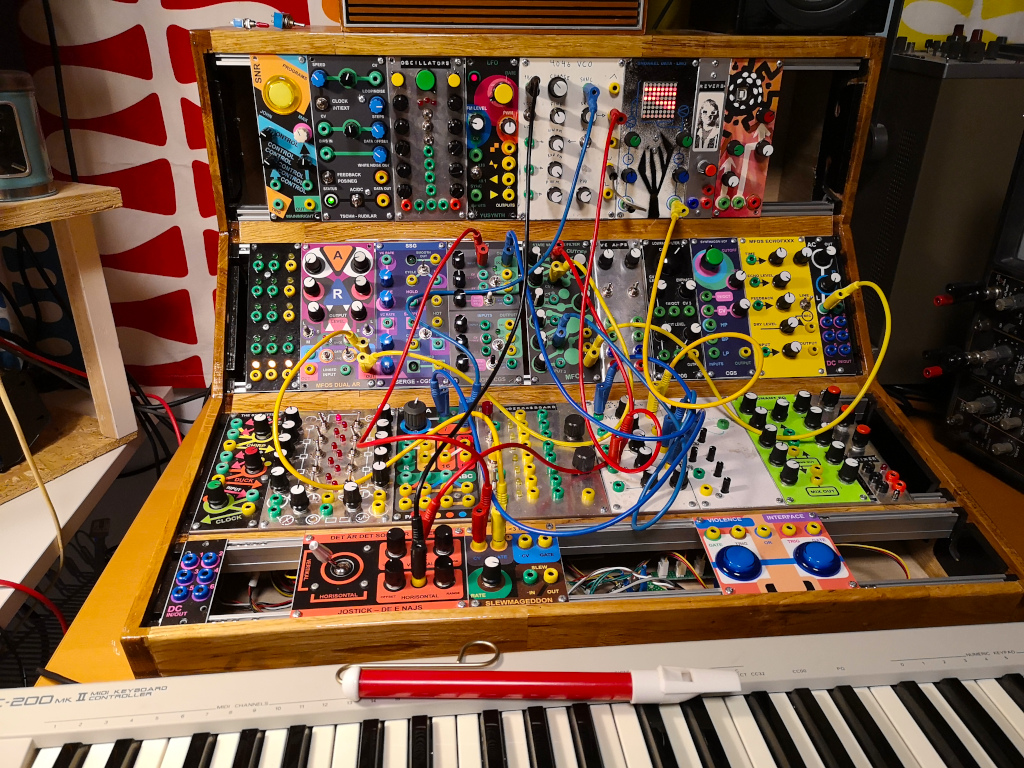 I have been making game audio as a freelancer for all kinds of games since around 2008.
(Check out my portfolio!)
The main focus for me has always been making the music and sounds really fit the game and make it feel as good as possible. I´m comfortable working in all the standard Game Dev-software listed below.
Main Services
Music for games
Sounds for games
Implementation of sound and music for games
Familiar with
Unity
Unreal Engine
Gamemaker
Wwise
fmod
pico8