Final Match!


Top 5:
Rockard Sandgren
Grapefrukt
Simon Gustafsson
Kjell Håftén
Andeye

SPORT FOOTAGE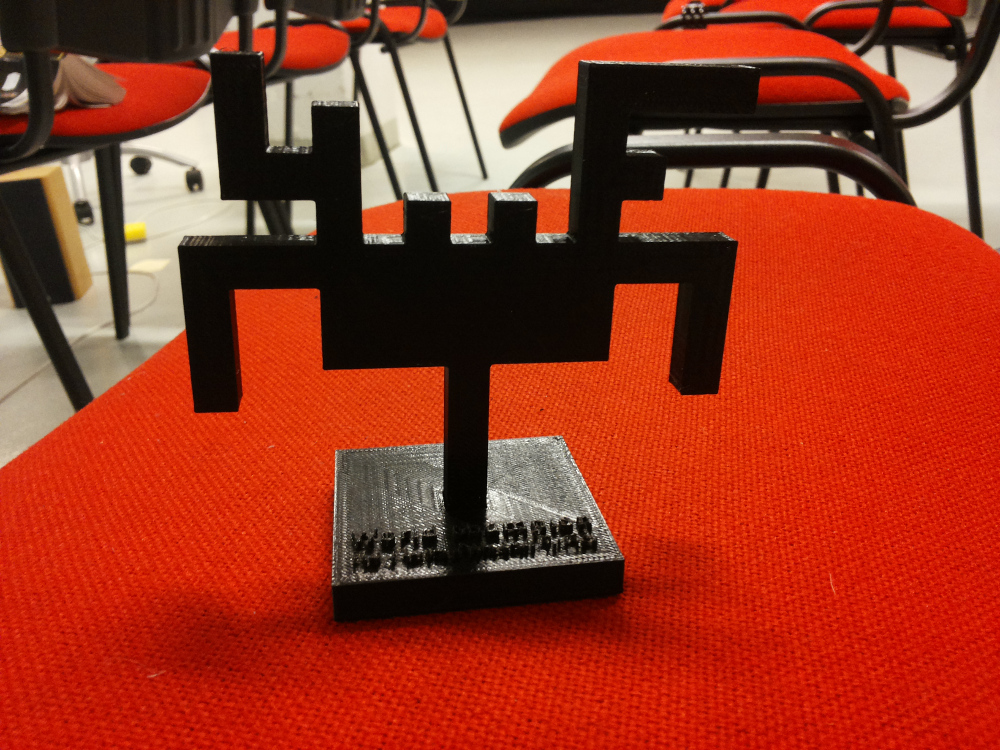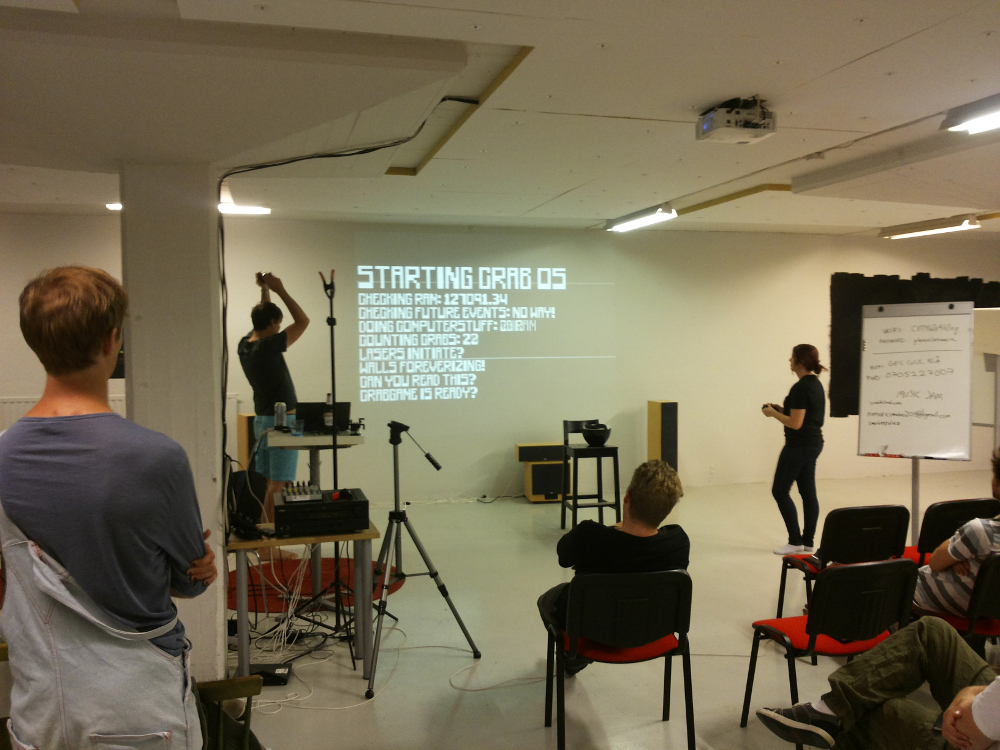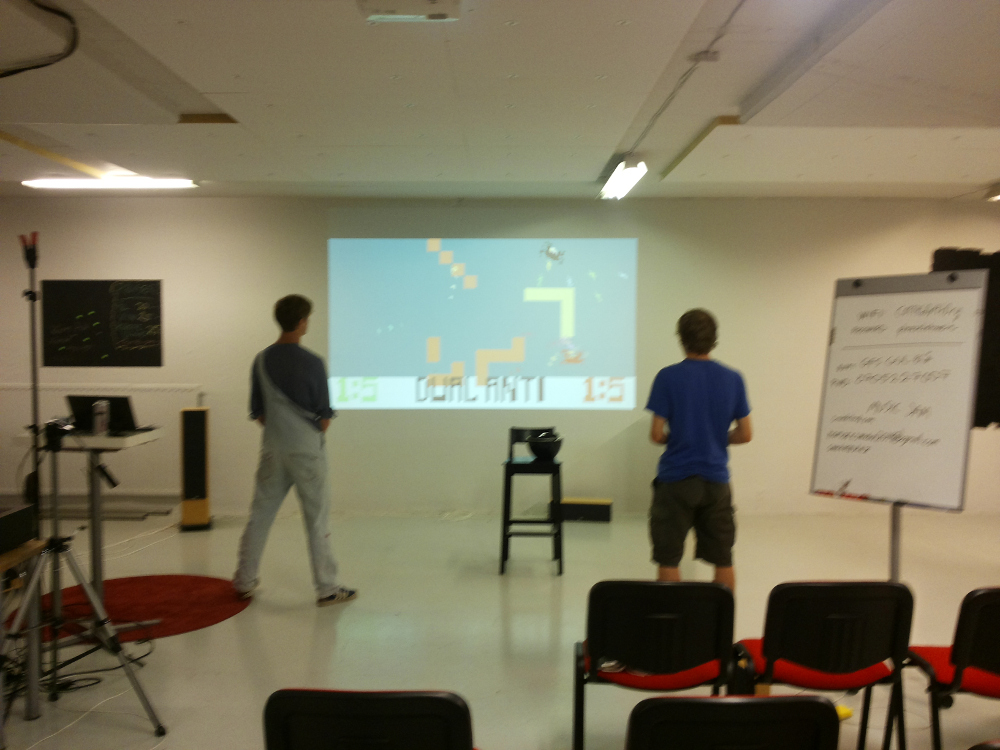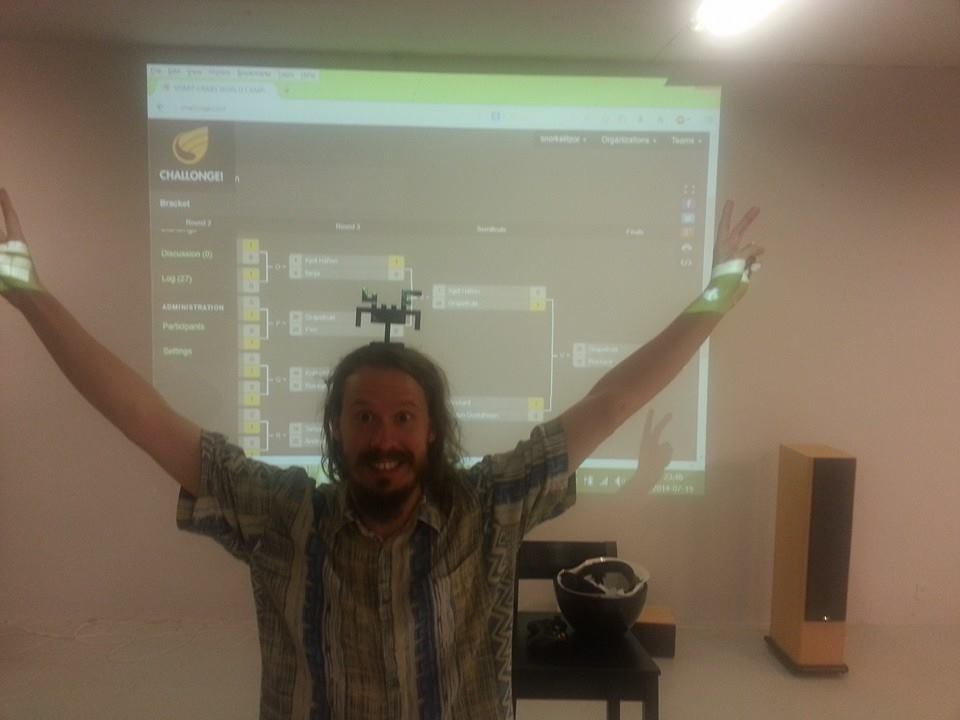 INTERVIEWS
ROCKARD - WORLD CHAMP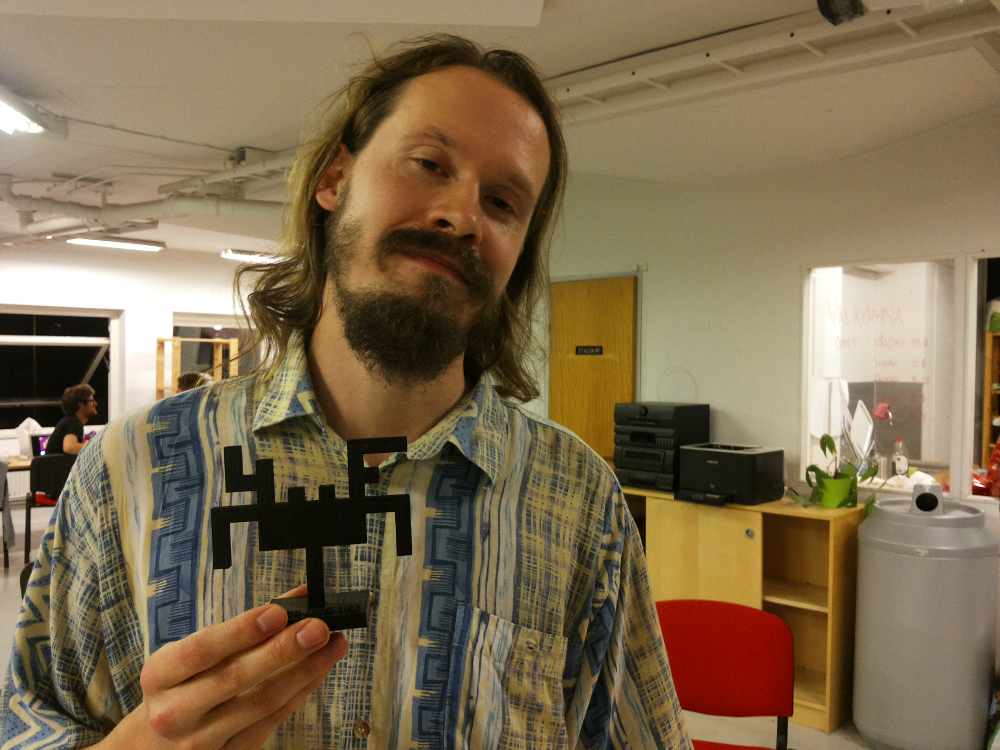 (Q)Hello Rockard! Tell us a little bit about yourself!
(A)I love to wander around in nature, meditating about life. There are so many patterns and colors and I find it amazing the mind can filter all of it out without overloading. It's an amazing filtering machine!
Oh and I love to learn stuff, and do stuff. I love making music. Computer programming. Painting. Finding insights about myself and the universe in general. Also I'm male and 33 years old.
(Q)How long have you been playing Vomit Crabs?
(A)Hmmmm... probably as long as the game has existed, so since beginning of last summer. But total time, not so much. I have never practiced or anything.
(Q)How come you are the best Vomit Crabs Player in the whole world?
(A)I know the developer ;). But seriously, I think you need to find a way to play the game that suits you. Your mind need to accept the changes that constantly occur. Like real life, you are dead if you are in denial of a troublesome situation. New things, both good or bad, brings new opportunities in your adventure in life. I think its important to embrace it. You should not be a dead fish in the river, just act like one! I also do meditation, which trains your senses and helps your focus.
(Q)How did you feel after winning the World ChampionShit?
(A)Weird. I have never won first place ever... I think. I felt the swedish Jantelagen! Like... oh I'm not good enough to win this. Im not worthy. I felt like an ass destroying the other crabs! But.. it was fun. =)
(Q)Another famous Vomit Crabs Professional is Simon Gustafsson, he was highly ranked before the ChampionShit but you
beat him in the semi finals.
What is you relation to Simon Gustafsson? Have you played against him before?
(A)We were in the same class a long time ago when we were studying game design. When we first worked together during a school assignment I couldn't handle his attitude. But now I think he is a nice, fun and impulsive guy.
Yes, I have played against him before. I never won... anything! I totally lost BIG all the time.
He was always talking about his special focus. All the blinking bullets all in his mind working out the perfect dodging technique.
He truly was the master.
(Q)What is your favorite strategy/technique?
(A)Aiming the bullets and watching them bounce... and kamikaze - good for when the other player is too much in control!
(Q)How will you defent your title when the game goes public?
(A)By doing nothing! I have never trained and never will. I trust my subconscious. I feel completely ready at this very moment.

SIMON GUSTAFSSON - PRO VC PLAYER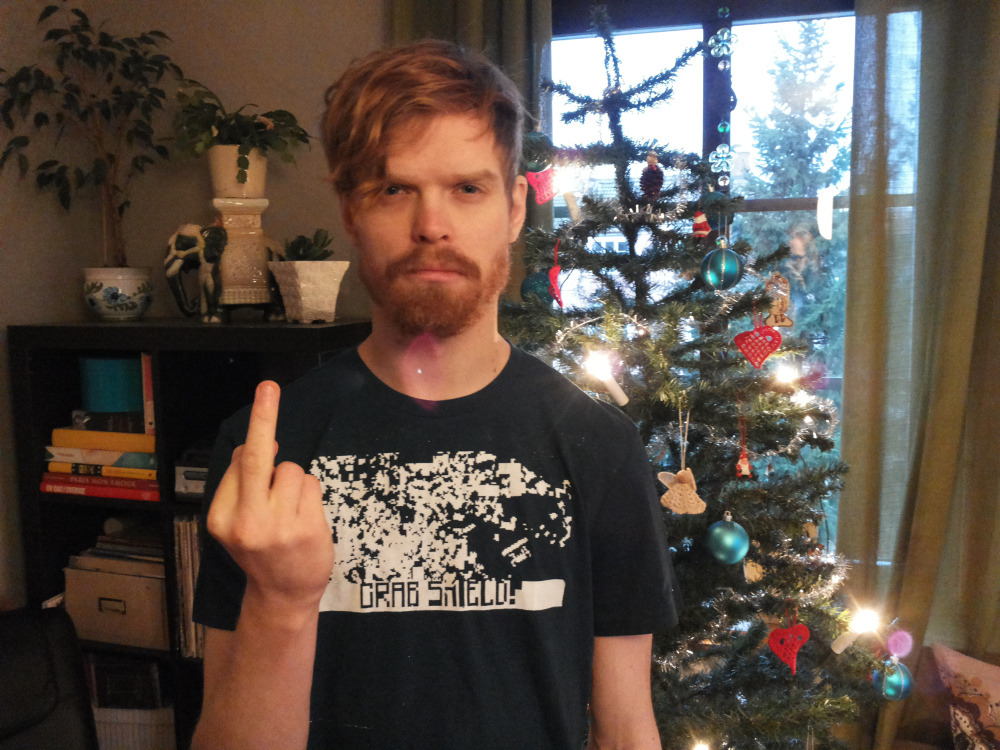 (Q)Hello Simon! Tell us a little bit about yourself. Who are you?
(A)I'm Simon Gustafsson. Also known as Sklett or @sklettet for short. I'm a independent game developer, illustrator, graphic designer, martial arts enthusiast and professional Vomit Crabs player.
(Q)For how long have you been playing computer games?
(A)For as far as I can remember. But the first system I owned was a Gameboy, and my first game (after Tetris) was Double Dragon. My first contact with the PC was around the same age where my grown-up neighbour had a 386 for work. I started hanging out there more and more, making crude animations using the scrollbar in paint and playing games.
(Q)Wich are your favorite local multiplayer games? (all time)
(A)Heroes of Might and magic III, Cyberdogs (and C-dogs), River City Ransom. Vomit Crabs and also LAZA KNITEZ!! can outshine those at any time, but that requires the right competition.
(Q)For how long have you been playing Vomit Crabs?
(A)I've been playing Vomit Crabs since the beta version and have seen the game grow from a tiny garage-like local multiplayer game to a world championship-worthy tournament game with THOUSANDS of human cells used to play.
(QHow many hours per day do you practice?
(A)I don't practice much, I need to warm up for two games. Then I'm ready to rock. Vomit Crabs is only as hard as your opponent.
(Q)What is your favorite strategy in VC?
(A)I'm an expert mind gamer, so I try to make people give up and/or tense up before they start playing. But usually I use my in-game movement to crowd the opponent. Make them think about what I'm doing next instead of the other way around. Keep them on the defensive. I also calculate my teleports a lot and spray vomit to create space. But I think my most most favourite one is to crab shield until the background has the same color as my bullets.
(Q)As a graphical designer, what do you think about the grapics in VC?
(A)They are punk as fuck. It's a style I could never master, because I would only feel obliged to un-punk it on every turn. The pixel collision totally make the game. This game could not have been made in any other way, because the graphics and colors are also part of the game design.
(Q)Alot of people thought that you were gonna win the big ChampionShit at NMS. (A)How did it feel to end up in third place? It felt like shit. I was so fucking mind blown. I lost to Rockard whom I completely destroyed like ten games in a row the days before the tournament. He really stepped up and I got thrown off guard. He had a realy tight game, no wasted movement and great accuracy.
(Q)Are you going to try to reclaim the title next year?
(A)Yes, and in an impressive fashion. People will know last time was a fluke.

T-SHIRTS
Somewhere along this crazy ride i decided to learn how to screen print so that i could make these super nice CRABSHIELD T-shirts!
I might just make some more of them!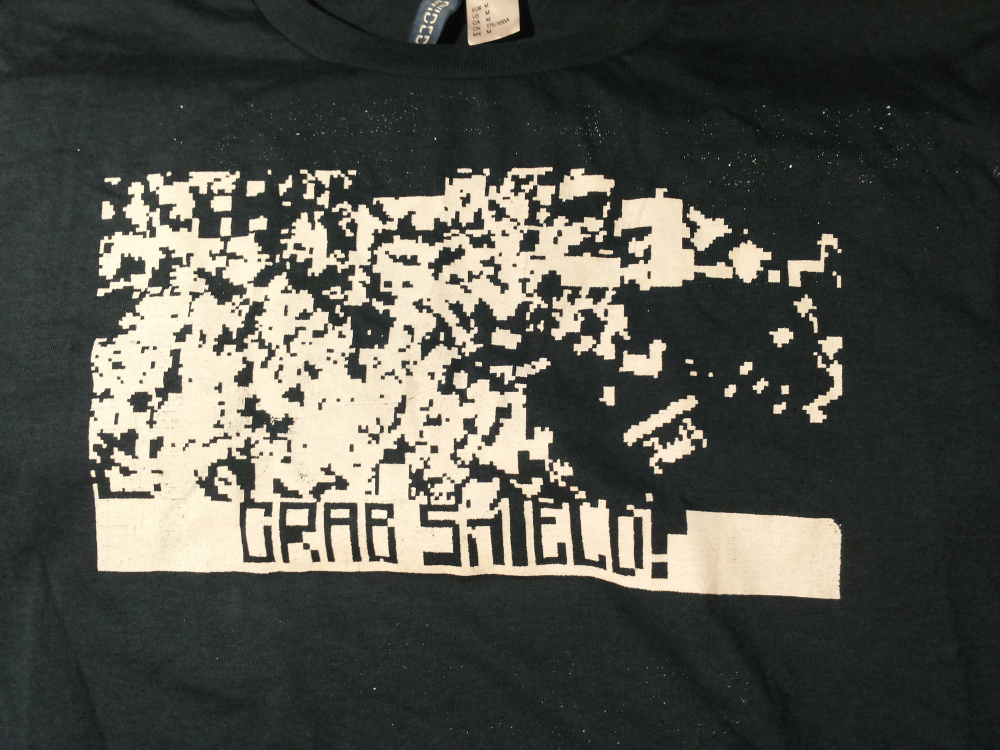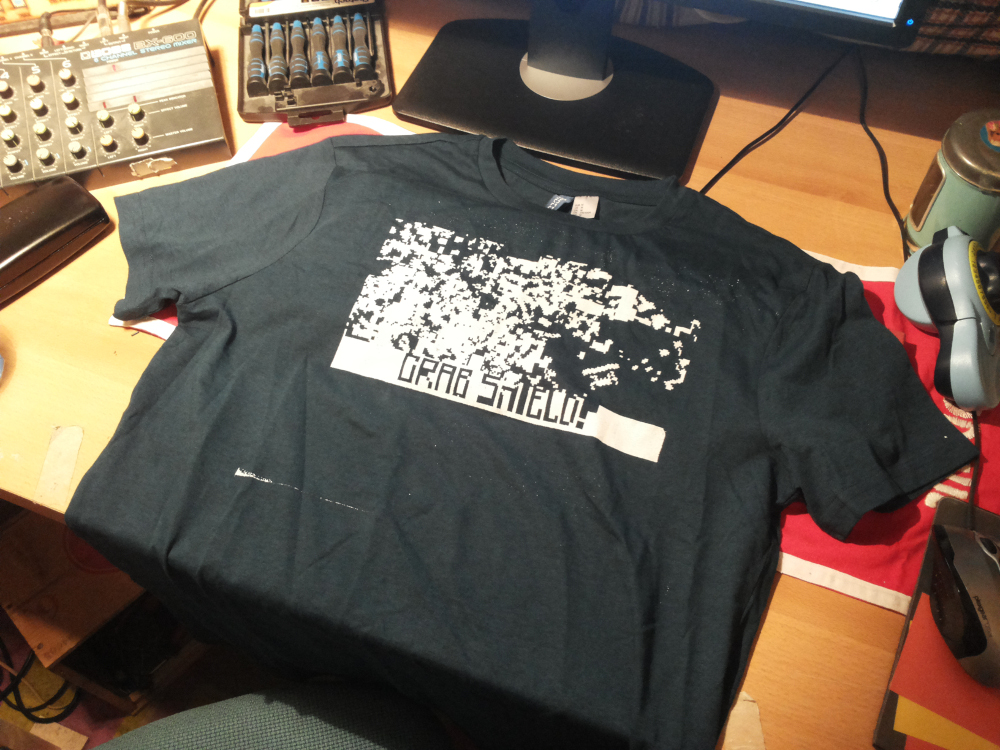 THATS IT FOR NOW!
Go and play the game with someone!